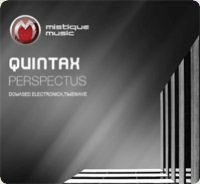 Quintax is a side project of the much loved Styller aka Branislav Klinko who hails from Slovakia.
https://www.beatport.com/en-US/html/c…
The first official Quintax production was the excellent remix of Michael, Levan and Stiven Rivic's "Twilight" which was released in August. The mix was appropriately titled Quintax's "Atmospheric Air" Remix becasue of it's very airy and wispy sounding atmospheric elements. A truly great sound on that remix. His new single "Perspectus" for Mistique Music is of the same quality, a very tech-trance atmospheric vibe on the original, the galloping style beats really give the track alot of groove and the atmosphere has a lot of character with it's ultra grainy feel. Absolute no cheese here at all, this is proper atmospheric, soulful trance music. You won't here many tracks that fit this description nowadays. Well done!
The remixes are supplied by Mistique regulars Domased Electronica and Timewave. The Domased Electronica mix adds a slightly rougher and grungier edge to the bottom end and the melodic keys are a bit more prominent in this mix which does offer a nice variation on the already great Original Mix. The Timewave mix closes the package out and it's got that signature Timewave sound that we all know and love, the squelchy, epic synth lines that give Timewaves productions so much energy are certainly there along with a big meaty bassline. Overall it has a slightly deeper vibe than some of his previous productions which is a nice change and shows some diversity. Overall this is a great package and it really is what proper trance music should sound like. If anyone remembers some of the old Planisphere productions the original mix here is of that quality.