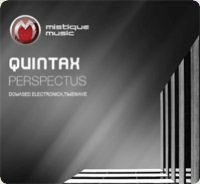 Quintax – Perspectus (inc. Domased Electronica, Timewave) (Mistiquemusic) [MIST079]
Release date: September 7th, 2010
Progressive/Progressive
Original Mix
Quintax's Original version here has that classic Mistiquemusic sound. Combining the deep, atmopspheric progressive with something that's very very trancey. A deep, dark pounding beat works exceptionally well with the lush, dreamy melodic patterns.
Domased Electronica Remix
With the deep, pounding rawness of the original, Domased Electronica must have been itching to get on remix duties for this. He did. In massive style! Giving that bassline and beat a more massive sound (if that were possible), this remix will have the dance floor shaking in no time!!
Timewave Remix
Although Timewave is one of the latest additions to the Mistique 'Exclusive Artists' roster, it certainly feels as though he's been part of the label for a long time. He has captured the hearts of many progressive lovers worldwide with his deep, progressive trance blend, and with Perspectus, he delivers once again. Lightening the mood somewhat, he uses his familiar trance like sound along with some dreamy, sumptuous harmonies.
Tracks on this release:
01. Perspectus (Original mix)
02. Perspectus (Domased Electronica remix)
03. Perspectus (Timewave remix)
Review by "Dan Southward"
Covers by "Eryo/Konstantin Vorontsov"
Source: MyPromopool