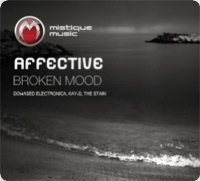 The 'Broken Mood' EP by Affective kicks off what is about to be a very hectic few months for Mistique Music.
https://www.beatport.com/en-US/html/c…
With a release scheduled every 2 days for the month of September and October things are really heating up at Mistique headquarters! Affective's 'Broken Mood' original has been floating around for a while now, appearing in some Eryo sets from as far back as April. It's an amazing melodic progressive breaks track with lots of textures and atmosphere that all blend together very well. The tracks lead is a very effective guitar line that really adds to the soulful nature of the tune overall. There are also some very big mixes on the package from some of Mistique's finest, Domased Electronica, The Stain and Kay-D all offer interpretations here. Being one Mistique`s premier artists Ladislav Zajic otherwise known as Domased Elecronica does what he does best here. Those trademark Slovakian stomping beats really give the track huge punch and great dancefloor sesnibility, coupled with lots of wispy atmospheres and subtle melodic touches we have another amazing remix from Domased Electronica. Next up The Stain takes things in a deeper vein and it has turned out brilliantly. Sultry deep grooves with great rhythms and a cool atmosphere make this one perfect for many dancefloors out there. Closing out the package is another legendary Mistique producer Kay-D. Kajdi Krisztián otherwise know as Kay-D has produced another amazing interpretation here. Bouncy beats, sultry female vocal pads, very soulful melodic lines, a classy sounding piano section and a truly memorable breakdown that is beautifully emotive. Amazing stuff from Kay-D and a great release from Mistique.
Source: ReleasePromo