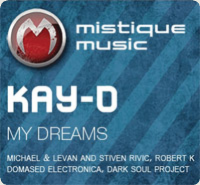 Kay- D also known as Krisztian Kajdi, was born in July of 1978, in Ajka, Hungary.
His interest to music started in 1986 when he went to the conservatorie for 3 years and played trumpet. In the early '90s he started to be interested in electronic music and at that time his favourite styles were german rave, acid-house and hardcore-techno, and later trance. At the age of 16 Krisztian started to compose music. After a break in producing to attend school in environmental engineering Krisztian got back into producing in 2007, it was a turning point in Kay-D's career, at that time he got to know the newest music composing programmes and had his first productions signed to CLS Records. His music was inspired by many styles like progressive house, breaks, tech-house, tribal, deep house and electro.
With My Dreams Kay-D has crafted a real deep progressive trance gem. Lots of sparkling melodies and great female vocal snips. It's the tough galloping beats that really give this a deep yet still tough feel on the low end. The atmospherics in the breakdown are absolutely out of this world and when the bassline drops back in it's pretty devastating. Label bosses Michael, Levan and Stiven Rivic have really focused their mix on a lot of swirling atmospheric elements and have created a hypnotic deep trance anthem. So many sublime layers and textures to get lost in on their mix, it's really incredible and a great journey into sound! Domased Electronica has added some additional groove to the low end and kept the amazing atmospherics and melodies for an overall epic feel. Dark Soul Project provides a very nice complement to the package. His mix starts off in typical DSP fashion with a dark and grundgy vibe but as the melodies fade in the mix takes a more melancholic almost ominous feel. It's a very interesting and unique remix from DSP and is a testament to him as a producer. Lastly Robert K comes up with a pretty straight forward progressive trance mix with nice energy and a good pumping clubby vibe. Another Solid package from Mistique.
Source: ReleasePromo