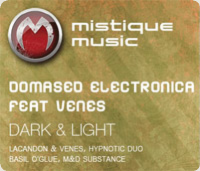 Ladislav Zajic has returned under his much-loved Domased Electronica alias for his new single with VeNeS entitled 'Dark & Light'.
Domased Electronica has over the course of the last year and a half has become one of the most respected producers in the progressive and trance underground. It goes without saying that his productions are outstanding and are always quite sought after throughout the progressive community. It is however not by accident, Ladislav appears to have a great understanding of just how much production work to do. In an age where many producers have several tracks released in a week (one of the many problems in modern dance music) Domased Electronica chooses projects at an appropriate pace. The remix projects are always of significant stature and it's clear that a great deal of time is spent on the intricacies of his productions all this combined Ladislav always leaves people still wanting more of his work and that is a key thing in this day and age of easily released digital music.
The Dark & Light original mix starts with some really fresh atmospheric sounds and a simple but hooky pattern. The expected Slovakian stomp to beats is there which will certainly make long time trance and progressive fans remember back to the great Tkac & Haverlik who really brought this sound to the forefront at that time. The drums here are absolutely crushing and really give the track enormous pop and huge dancefloor energy. As the breakdown comes the vocals of VeNeS are introduced and they sound absolutely pristine sitting over a bed of lush, wispy atmospherics. The restraint shown in the breakdown is to be commended here, it would have been very easy to follow the formulaic buildup and then reintroduce the full vocal as the track comes back in but Domased Electronica avoids that as just the kick, drums and a few synths come back into the picture which really make for a cool, deep and refined progressive trance anthem. For those that may not favour the vocals a dub is also provided.
The remixes on the package come from: Lacandon & VeNeS, Hypnotic Duo, Basil O'Glue and M&D Substance. Lacandon & VeNeS have really added a cool vibe to their remix, the shuffling style beat pattern and gated vocal add a much different and perhaps more groove based feel to the original. Great elements from the original are of course used but the additional sounds are super fresh and totally compliment the track in the right ways. The clattering drums are cool as hell and the instumentation introduced in the breakdown is superb. An amazing remix of an already great original. Well done Lacondon & VeNeS!
The diversity of the mixes on this package is a nice change, Basil O'Glue turns in a more big room trance mix with soaring melodies, pumping basslines and great key changes throughout. Certainly the biggest and most commercial mix on the package and it has earned support from Paul Oakenfold and Markus Schulz. Hypnotic Duo's take on things is a more straight forward progressive house mix that relys heavily on rhythm and groove which has proven to be very effective if their recent success is anything to go by. Lastly M & D Substance deliver a very bouncy, summery mix with a great vibe that will also find it's place in many DJs sets no doubt. The real winners here though are the originals, Lacandon & VeNuS' absolutely amazing remix and Basil O'Glue's for the trancier dancefloors out there. Certainly one of the best Mistique Music releases yet this year! Well Done.
Source: ReleasePromo