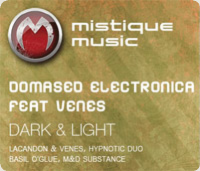 Domased Electronica feat. VeNeS – Dark & Light (inc. Lacandon & VeNeS, Basil O'Glue, Hypnotic Duo, M&D Substance) (Mistiquemusic) [MIST060]
Release Date: Jun 25th, 2010
Progressive / Progressive
Tracks on this release:
01. Dark & Light (Original Mix)
02. Dark & Light (Dub Version)
03. Dark & Light (Lacandon And VeNeS HD Remix)
04. Dark & Light (Hypnotic Duo Remix)
05. Dark & Light (Basil O'Glue Remix)
06. Dark & Light (M&D Substance Remix)
Original Mix & Dub Mix:
What a way to kick off this big package with a dark, twisted original version. In typical Domased Electronica fashion, he manages to grab you within the first 2 minutes of the track, which is not something many producers can do! VeNeS has a really special voice which really gives the track an extra dimension. There is also a dub mix for those not being swayed by the vocal mix!
Lacandon & VeNeS HD Remix:
VeNeS is back with her familiar partner here on the E.P. first remix job. Lacandon & VeNeS use a throbbing, cranky bass hook and some great effects to build the foundations of the remix. The entire 8 mins of this track has a definite breakbeat feel to it, but without losing any of it's full on progressive influences.
Hypnotic Duo Remix:
Dziastinas and Marius always seem to be on top form. And here they have hit it yet again. Their trademark industrial sound is present and they use VeNeS' vocals to good effect. Hypnotic Duo are true to form once again with their heavy, driving bass laden productions.
Basil O'Glue Remix:
Basil uses a massive bassline to set the foundations for his remix. And his remix builds and builds on these foundations. A lovely hypnotising harmony, leads us up to a lush popping sounding melody which then transforms itself into an electro tinged breakdown. Basil has left out the vocals on this one but the melody alone is enough to stick in your head……like glue!!
M&D Substance Remix:
This seems like a more laid back remix from M&D Substance. This one uses a little less energy than the previous versions, but they make it sound incredibly good. An eerie sounding quiet part builds up into a nice laidback, melodic breakdown. Would work well in the early parts of a set I feel.
Review by "Dan Southward"
Cover Design by "Shannon Riches / Approaching Black"
Source: MyPromopool