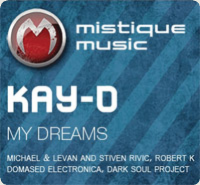 Kay-D – My Dreams (incl. Michael & Levan and Stiven Rivic, Domased Electronica, Dark Soul Project, Robert K) (Mistiquemusic) [MIST062]
Release Date: July 1st, 2010
Progressive/Progressive
Original Mix
Mistique's favourite Hungarian adds to his huge list of tracks with the label with this deep, atmospheric Original. In true Kay-D fashion, he combines a real dark bassline with very heavenly melodies and a familiar female vocal cut where the lyrics are quite indecipherable.
Michael & Levan and Stiven Rivic Remix
Label head honchos are on remix duties again, and here they have delivered a stomping take on the original. All the elements of the original are present in this remix, but M&L and SR have taken us that little bit further down the rabbit hole with this remix.
Domased Electronica Remix
When I first heard this remix, I had to double check whether it was Domased Electronica working this one. Has a bit of a different flavour to his previous remixes this year, he usually has a very distinctive style but this seems to be a completely new direction for DE and he makes it sound so very, very good!
Dark Soul Project Remix
Argentinian producer Dark Soul Project turns in an 11 minute journey here. A real driving bassline and the use of Kay-D's original turn this remix into quite an uplifting one but yet still managing to keep it very, very deep.
Robert K Remix
Robert K (or to give him his real name, Robert Árpád Kiss) is a producer/DJ from Romania and here he provides the final remix for the package. Quite a crisp sounding beat with some extra melodies and a driving bassline, make this one an early set thumper.
Tracks on this release:
01. My Dreams (Original Mix)
02. My Dreams (Michael & Levan and Stiven Rivic remix)
03. My Dreams (Domased Electronica remix)
04. My Dreams (Dark Soul Project remix)
05. My Dreams (Robert K remix)
Review by "Dan Southward"
Source: MyPromopool