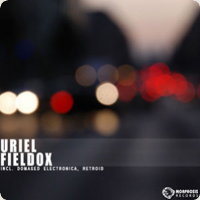 Domased Electronica remixed Uriel's track Fieldox.
Uriel Yehezkel was born in 1984 and grew up in Jerusalem. He started making music at the age of 15 playing Trance, House, Progressive House, DeepHouse and BreakBeat Music. He later developed his own unique style of Chill Out and Instrumental Electronica.
After completing three years army service in 2006 he returned to music professionally and won a first place scholarship at BPM School of Music. Working on his debut album during 2007, he combined his own talents for composition, keyboards, piano and guitars with guest musicians playing percussion, flutes, violins, Darbuka and vocal textures.
Tracks on this release:
01. Fieldox (Original mix)
02. Fieldox (Domased Electronica remix)
03. Fieldox (Retroid remix)
Details on Morphosis Records website.