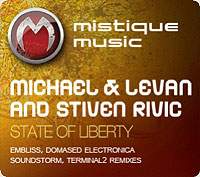 New label Mistique Music presents their first release from artists Michael & Levan and Stiven Rivic. Their unique deep, atmospheric and melodic sound you can feel in this track as in all their track.
Remixers did a great job too. Embliss with his deep progressive sound, nice melody and deep groove takes you on a trip to space!
Domased Electronica with atmospheric sound and beautiful pads. Soundstorm with some techy – sexy elements. And as a bonus we are proud to present you new upcoming talents from Georgia – Terminal2 with some trancey sound.
Tracks on this release:
01. State Of Liberty (Original Mix)
02. State Of Liberty (Embliss Remix)
03. State Of Liberty (Soundstorm Remix)
04. State Of Liberty (Domased Electronica Remix)
05. State Of Liberty (Terminal 2 Remix)