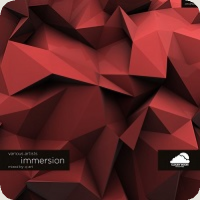 With almost a double century of production credits to his name dating back to 2006, Polish artist and DJ, CJ Art, has established himself as consistent force in a turbulent electronic music scene. His work signed to such luminary imprints as Mistique Music, JOOF and Suffused Music, the self-proclaimed producer and sound designer has released a steady stream of music that has evolved in impressive style.
Now taking his talents to the embryonic Cloudy Moon Records with its focus on "deep, dark, old school prog and psy sounds", "Immersion" provides 160 minutes of music spread across two developing aural palettes and over thirty high-calibre tracks.
Part I sees deep, rich progressive sounds blended with consummate ease as the skill of emerging talents and established starts combine. A European renaissance sees Italian, Danny Lloyd, nestle exquisitely alongside Ireland's Lateral Cut Groove while Serbia's Progress Inn and Greece's Simos Tagias continue the grand tour. Opening proceedings himself, CJ Art continues to make regular appearances throughout the first half in a journey full of melody and deep pounding rhythms.
Part II brings to the fore a clutch of deep percussive grooves as legends from Belgium and Israel feature – Faskil and MOSHIC remixing Kaan Koray and Anton MAke respectively. Suffused Music's regulars Dr. Avalance and Advent's Rising ply their impressive skill sets to great aplomb and CJ Art punctuates a hypnotic groove-laden 80 minutes with a series of remixes that have helped carve out a still growing reputation.
Diving head first into a sea of musical tranquillity, CJ Art's total "Immersion" in the music that defines him has created sonic ripples that truly represent the deep, progressive sound.
– James Warren
Buy on Beatport.