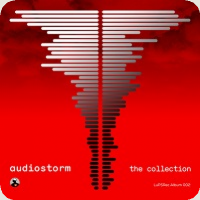 As his interest in electronic music crew, AudioStorm started to write his own tracks which are supported by many of his childhood heroes. He now has releases on multiple labels like Particles, System and Baroque, Balkan Connection, Mystique Music and many others. He also has a diverse range of releases from Progressive House and Techno to Chill-Out and Indie Dance. This clearly indicates a talented producer who does not let genre boundaries cloud his musical vision!
Two years ago AudioStorm aka Ognjen Vukovic joined LuPS Records with his track Amazon Clouds. A ambient and atmospheric track. Ever since AudioStorm released three other originals and a couple of remixes on the label. Now two years later, the idea came up to make a compilation of Ogjnen's work and the best remixes and release it as an album. As bonus Ognjen submitted a brand new track called Addition Energy.
AudioStorm – Amazon Clouds (Original Mix)
A firm kickdrum, well programmed percussion and a deep warm bassline forms a perfect background for a floating, dreamy track with all sorts of eerie soundscapes, swelling synthlines, vocalsnippets, swirling arps and spacey fx's.
AudioStorm – Hard Way (Original Mix)
Hard Way is a perfect example of how versatile progressive music can be. AudioStorm managed to blend together a few styles in this track. A chugging techno groove in the background with on top long layers of mellow progsounds and a handfull of old school synthstabs, arps and fx's.
AudioStorm – Alexander the Great (Original Mix)
Alexander the Great is a gorgeous deep moody quality prog house track. The original oozes depth and is causing a relaxed atmosphere. Long layers of sound, eerie pads, growling sawlines and crispy percussion are doing the rest.
AudioStorm – Fly With Me (Original Mix)
Fly With Me is a melodic Deep House track with a summerish fresh uplifting feel. The track contains a rather cool morphed trumpet sound which pops up every now and then. Besides Ogjnen created a real floating atmopshere with well programmed percussionlines and fragile tiny melodylines.
AudioStorm – Additional Energy (Original Mix)
This is the brand new unreleased track on this album. Additional Energy is a more Techno based track with a old school bassstab and crispy rolling percussion. All sorts of raw edge sounds are popping up during the track. The contrast with the eerie moody pads makes this track really interesting.
AudioStorm – Amazon Clouds (Vlada D' Shake Remix)
Vladimir took a totaly different route for his remix. His remix contains a laidback deep soothing groove with a rather relaxing bassline and crispy fx's. The Vlada D'Shake remix proves that the good old prog sound is still alive in all it's facets.
AudioStorm – Hard Way (Domased Electronica Remix)
For Domased Electronic this remix was his debut on LuPS and how? Ladislav delivered an impressive masterpiece with a huge swinging groove which has been stuffed up with lots of danceable percussion lines and elements. Ladislav also inserted a few new syntstabs which are really catchy. The breakdown section is just amazing and a true dancefloor filler. You simply can't go wrong when dropping this remix and it still sounds massive!
AudioStorm – Hard Way (T-Dallas Remix)
Hailing from Greece Thanos Dallas handed over another storming remix of Hard Way at the time. His remix contains a majestic prog house groove with that typical Greek emotional feeling and atmosphere. However this remix goes way deeper then the one from Domased Electronica. Besides that it just sneaks under your skin to stay there for quite some time.
AudioStorm – Alex ander the Great (JJ Grant Remix)
Also for JJ Grant this remix was his debut on the label. He delivers a true type chugging prog remix with a devastating bassline and a tremendous flow and feel. This remix goes even deeper then the original and is causing goosebumps on your skin and shivers down your spin. This is a straight from the heart Prog remix at it's best.
AudioStorm – Fly With Me (Tropical Hibernation Mix)
The first remix or better rework comes from Ognjen himself. His Tropical Hibernation Mix is a downtempo chill out tune which is perfect for a sunset on the beach. The start is perfectly gorgeous and really tensed and fragile. Then when the downtempo breakbeats are coming in the whole track comes alive.
AudioStorm – Fly With Me (Jacco@Work Remix)
The second remix of fly With Me on this album comes from labelboss Jacco@Work. His reinterpretation of the original is a based upon a Tech House angle. His rmeix contains a steady and solid beatstructure with a blunted bassline and driving percussion. As the track develops Jacco adds bit by bit the original elements but in a tweaked and morphed way. This gives his remix a more raw and freaky feel.
Buy on Beatport.