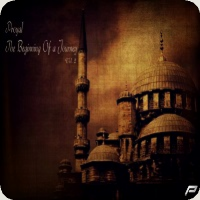 Release Date: 2014-12-15
Label: Royal Comps
Catalog #: PMR2RCMP
Promind Recordings returns with style to the magical music field, presenting VA- The Beginning Of A Journey Vol. 2,
the second compilation under its "TBOJ" seal, which is Persian for "Peace".
Proyal joined an inspirational journey
alongside Oriental for an absolute epic compilation of 80 minutes length. A deluxe CD edition featuring 16 gems
of quality tracks ranging from Ambient, Downtempo to Progressive Chill,House and Trance infused with touches
of Spiritual, Emotional, Ethno and Psychedelic soundscapes.
M.Ali Entezarian , aka Proyal from Iran, having produced 2 full-length albums of healing music and he also compiled the first volume of VA TBOJ. Ambient & Downtempo tracks with a Spiritual, Ethno & Emotional touch by "Mirage Of Deep", Jasmon,and Progressive sounds from Matteo Monero", Youngen, Jason Van Wyk, Andy Duguid, and… in one of them. The Vocal and Trance selection presents transcending creations by Progresia, Solarstone, Driftmoon And Andy Blueman &….. The Beginning Of a Journey Volume 2 Compilation has been sealed with Healing Love. Certainly a "must have" for Magical & gnostic sessions, light working, subtle dance and for all downbeat music lovers looking for ancient, spiritual and transcending psychedelic soundscapes.
The album unfurls like a wondrous tapestry of organic instrumentation and easy-going funk perfect for mysterious recovering from the intensity of an evening with the Unknown Mysterious. Please close your eyes and join with us.
Buy on Beatport.