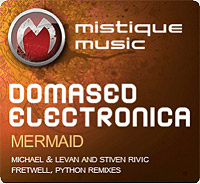 Domased Electronica – Mermaid
Label:
Mistiquemusic
Released: June 5th, 2009
Reviewed: 4.5/5
User Rating: 4.3/5
Mistiquemusic continues their good run, with this release from Slovakian artist Domased Electronica. This producer has already had his brand of atmospheric progressive house released on labels like Tilth and Morphosis. His latest offering, entitled "Mermaid," comes with some big name digital prog remixes. Label directors Michael & Levan and Stiven Rivic team up, plus there are new versions from Russia's Python and Sheffield's Tim Fretwell. This line up should have prog fans everywhere licking their lips!
The original mix is a driving and energetic progressive number. Rising chords and atmospheric echoes give the track a soul, whilst a rolling bassline provides a solid base. A great start, and plenty of elements for the guest remixers to use.
The Michael & Levan and Stiven Rivic remix have the label owners raising the bar with their own remix. Similar to the original, but with more energy, more atmospherics and a great presence. A fine remix indeed!
The Python remix is slightly more chilled out than the previous too. In fact, Python gives the tune a nice alternative direction to balance out the package.
Completing the release is the Fretwell remix, with this Sheffield, England based producer renowned for his work as a progressive breaks artist. His take on "Mermaid" is of good quality, and adding a breaks mix to the package is very sound move from the Mistiquemusic crew.
This is the 4th release on Mistiquemusic, possibly their best yet. If the label can keep up this level of quality without over saturation, this Georgian imprint could establish itself as one of the premier digital labels in the coming months and years.
Chris Sterio [May 18 2009]
(incl. Michael&Levan and Stiven Rivic, Fretwell, Python)