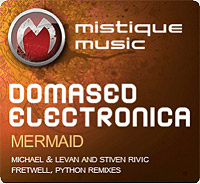 Slovak producer Domased Electronica starts off this release with his original track "Mermaid". It's a floating progressive house track that contains a great deal of atmospheric elements and enjoyable melodies as well as a strong and firm beat.
Label heads Michael & Levan And Stiven Rivic deliver the first remix which includes an incredibly deep bassline as well as a hypnotizing, driving beat. This goes really well together with the unique and adorable atmosphere created by various melody stabs and harmonies.
The remix from Russian Python starts off with some big pad hits and slowly develops into a deep, progressive track with driving synth lines and interesting drum elements.
Fretwell from the UK delivers a firm breakbeat remix with catching synth layers and various stab melodies. A very strong kick dominates this track which also makes it rather energetic and pumping.
Tracks on this release:
01. Mermaid (Original mix)
02. Mermaid (Michael&Levan and Stiven Rivic Remix)
03. Mermaid (Python Remix)
04. Mermaid (Fretwell Remix)
Details on Mistiquemusic website.