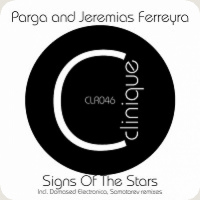 The 46th release on Clinique Recordings sees a fresh collaboration from two of Argentina's top up and comers. Parga and Jeremias Ferreyra have teamed up for 'Signs Of The Stars' which comes with remixes from Domased Electronica and Samotarev.
The Original version of 'Signs Of The Stars' has been in pipeline for quite some time so it's great to see it come out on a great label with two top notch remixes. The dark and ominous beginning of the original mix is certainly a great atmosphere setter. As the track builds though there is an underlying melodic beauty that begins to develop. Smooth chord changes in the bass line along with some funky hooks and trippy vocal gates highlight the centre section before the main break. Following the wispy drop the track climaxes with all the sweeping vocal effects, smooth chord changes and spacey electronics coming together in perfect harmony. Solid original from Parga and Jeremias.
The first remix is provided by one of the progressive underground's most legendary and long standing producers. Domased Electronica came up through the scene around the same time Michael & Levan an Stiven Rivic started their Mistique Music imprint. The Slovakian producer was one of the labels primary artists and has released a string of impressive originals and remixes over the years. His 'Signs Of The Stars' remix offers a more funky and spacious take on things. Charming melodies complement the rolling groove while a wide array of dynamic hits add just the right amount of vibrancy to the smooth nature of the piece. Great stuff from Domased Electronica.
Closing the package out is Green Snake headman Samotarev who is making his first appearance on Clinique here. The Russian producer has crafted a more stripped down and techno inspired interpretation of 'Signs Of The Stars'. The dark, ominous nature seems ideal for a cool backroom space or a real atmosphere setter in the main room. The clanky drums are quite nice here, the looser swing they add to groove really makes for an interesting listen while the top end pads balance everything out nicely. Great remix from Samotarev and a top notch release from Clinique.
Source: ReleasePromo