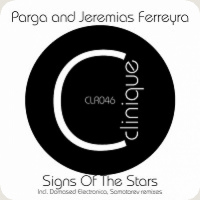 Another superb release is out on Clinique Recordings, this time through a collaboration between Parga & Jeremias Ferreyra called "Signs Of The Stars".
With deep kicks, dark bass chords and melodies in progression all the time, you are to get a superb production to fill your club floors and sets with, it's quality stuff coming up!
On remix duty you are to face new work from 2 great names in the business, and first out is another extremely good remix from Slovakian ace, Ladislav Zajic aka Domased Electronica.
He brings a deeper touch to the original ideas, where he is putting in a great effort to build something new out of them, we think he has succeeded. Be ready for deep underground elements in a blend mix with serene and clear structures that gives this production an awesome feel.
The 2nd remix comes from Green Snake Records owner, Alexey Samotarev. Under his family name, Samotarev, he brings out his music and it's great to see him back. He brings on a deep and dirty take here, cool percussion laden structures, with a cool repetitive synth line working the track, quality production!