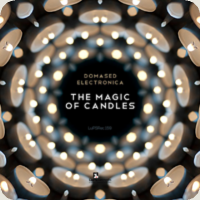 The 159th release on LuPS brings an Original from Slovakia based producer Ladislav Zajic aka Domased Electronica. With a string of releases on labels like Mistique, Morphosis and Mestiza it is now time for a rocksolid track on LuPS called The Magic Of Candles. The Original version is a dreamy and fragile track with lots of warmth and depth. Ladislav blended together lots of soundlayers and created and enchanting atmosphere with a stunning and dazzling breakdown section which sounds like a fairytale adventure.
The first remixes comes from no-one less then Matias Chilano. His remix is simply amazing and contains a great bassline and crispy percussion which gives the track a great drive and flow. Furthermore to round it all up Matias added a couple of new very catchy synthstabs and voxsamples to create a perfect soothing atmosphere. Once again Matias proves why his name is still rising.
The second remix comes from Bulgarian producer Alessandro. After his very well received Utopia EP on LuPS he now shows up with a stomping remix. He took one of the main catchy synthstabs of the Original version and builded a rocking and steamy groove around it with surely rocks the floor. Also Alessandro added some vox snippets to his remix which gives the whole track a more ethnic flavour. This remix is a peaktime hour bomb track with a rather energetic groove.
Last remix comes from Jacco@Work. His remix kicks of with a rather organic beatloop and a deep bassstab. After 30 seconds a driving percussionloop drops in and together with a bumpy bassline the road has been cleared for a pretty dancefloor friendly warming up tune. Also Jacco@Work added some extra fx's in the breakdown section like eerie violins, deep resonating space sounds, talking people and a breakbeatloop which turns the track into an bum shaking track after the breakdown.