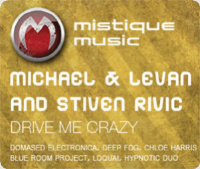 Michael & Levan And Stiven Rivic – Drive Me Crazy (incl. Domased Electronica, Deep Fog, LoQuai, Chloe Harris, Blue Room Project, Hypnotic Duo) (Mistiquemusic) [MIST067]
Release Date: Jul 25th, 2010
Progressive / House
Michael & Levan and Stiven Rivic – Drive Me Crazy E.P.
The label bosses are back with their own E.P. with a remix package to die for!
Original Mix
The guys' original kicks off our mammoth E.P. in style. After a dark, deep opening few minutes, we are thrust into a swell of big beats and some lush, filmic harmonies. The break is a lovely, dreamy couple of minutes, with a deep female vocal uttering the words "you drive me crazy" which sounds extremely good!
Domased Electronica Remix
Since the start of Mistique's existence, there hasn't been one Michael & Levan and Stiven Rivic track that hasn't been remixed by Domased Electronica, and this E.P. is no exception. Delivering his trademark deep style, Ladislav Zajic turns this into an epic tune. The elements of the original are all present, as you would expect, but he has put more emphasis on the beat and the bass which truly make this track a stomper.
Deep Fog Remix
An exclusive artist to Mistiquemusic, Deep Fog, from Poland delivers a more subtle, laid back approach. He must have had one eye on the summer months when remixing this because he seems to have captured the summer mood perfectly here. Lovely guitar played melodies.
Loquai Remix
Russian producer Loquai (Konstantin Alt) is back on remix duties once again and he delivers a tremendous transformation of the original. Awesome work with the harmonies as well as a delightful twist on the melody, this would work well in any sunset party over the summer
Hypnotic Duo Remix
The boys from Lithuania are back! Dziastinas and Marius turn in a real groover here. A deep punchy bassline rumbles along throughout the track, and the main melodic riff is out of this world! The breakdown is superb, a true spine tingling moment!
Chloe Harris Remix
Chloe Harris's star is rising. And fast. Turning in a remix for Namatjira earlier this year, she is back on Mistique with another dark, groovy remix! Chloe's remix this time round has her trademark pounding sound which takes us as far away from the original than you could possibly imagine. Would work well at the beginning, in the middle or at the end of a set, because of the uniqueness of the track.
Blue Room Project Remix
New York duo Shane Ehlers and Jeff Belfi are last up on remix duties here. They provide us with probably the most simplest of remixes you've ever heard! A simpe kick drum alone with some haunting harmonies make this remix a very listenable experience without being too over the top.
Tracks on this release:
01. Drive Me Crazy (Original Mix)
02. Drive Me Crazy (Domased Electronica Remix)
03. Drive Me Crazy (Deep Fog Remix)
04. Drive Me Crazy (LoQuai Remix)
05. Drive Me Crazy (Hypnotic Duo Remix)
06. Drive Me Crazy (Chloe Harris Remix)
07. Drive Me Crazy (Blue Room Project Remix)
Review by "Dan Southward"
Source: MyPromopool