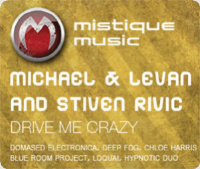 The underground progressive community eagarly awaits for each upcoming Michael & Levan and Stiven Rivic production and with good reason, each package this trio releases is always full of the most in demand remixers and the coolest up and comers as well.
The original mix is 11 minutes of swirling, atmospheric bliss. Laced with great vocal elements and that cool deep progressive feel this is certainly one of the best productions yet from Michael, Levan and Stiven Rivic. The track is just so smooth and it flows so well that you feel like you could listen to it on repeat for an hour and not get bored at all. Amazing!
The remixes provided here are quite varied which is really nice. Much deeper interpretations from Chloe Harris, Blue Room Project and Deep Fog will make sure the release finds its way into not just just a typical progressive lovers set but lots of DJs with varied tastes. The Blue Room Project mix has been receiving play from Derek Howell who opened his recent MasterLux show set with it and recent Chloe Harris productions have been receiving support from Sasha and Hernan Cattaneo so expect more of the same here. The big mixes on the package are provided by: Domased Electronica, Loquai and Hypnotic Duo. Domased Electronica keeps the vibe deep on his interpretation and the overall atmospheric feel is maintained as well but the beats are a tad tougher than the original which may suit a primetime dancefloor abit better but it's a toss up really because both are great tracks. Loquai provides his trademark thick and groove laden basslines for a really cool mix that does not disappoint and Hypnotic Duo keep their rework aimed squarely at the dancefloor with a progressive groove to die for. Another fine original production for Michael, Levan and Stiven Rivic with a great set of remixes but ultimately the original is the real gem on this package for us!
Source: ReleasePromo