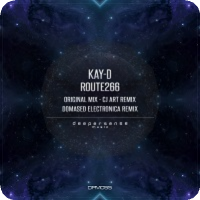 Kay-D – Route266 EP [DPM055 | DEEPERSENSE MUSIC]
(Release date: December, 21, 2020)
Kay-D – Route266 (incl. Original Mix / CJ Art Remix / Domased Electronica Remix) is out now on Beatport Exclusive!
https://www.beatport.com/release/route266/3197364
We close the year 2020 with Kay-D 's "Route266" full release, which is one before the last of releases related to our highly acclaimed "Mesmeric" compilation. Kay-D also known as Krisztian Kajdi is Hungary based music producer responsible for countless EP's on a wide range of respected music labels. To say Krisztian is an experienced music producer is an understatement. He's a progressive veteran releasing his sounds since more thana decade and getting support from the biggest names on the scene. Kay-D's compositions can be easily recognized from the typical melodic, atmospheric style – it is no different in the case of this fantastic tune. You may have heard the original version of "Route266" on the "Mesmeric" mix, and now we want to provide you with an additional remix pack. On the remix duty we have two more progressive veterans: CJ Art / Artelized and
Domased Electronica.
The man hidden behind the Domased Electronica is Ladislav Zajíc – super talented electronic music producer from Slovakia. We were admiring Ladislav's music works for many, many years, so we gladly welcome him in Deepersense Music's artists family.
To complete the release, the second version was prepared by label's head-honcho Artur Fabiański aka CJ Art. Enjoy the deep and hypnotic, yet atmospheric ride.
By the way, Deepersense Music team wishes you all the best for the upcoming new year, may it be better than the previous one!
More about artists involved:
https://www.facebook.com/kaydprogressive
https://www.facebook.com/cjartmusic
https://www.facebook.com/domasedelectronica.sk
More about Deepersense Music:
Tracklist:
1. Kay-D – Route266 (Original Mix)
2. Kay-D – Route266 (CJ Art Remix)
3. Kay-D – Route266 (Domased Electronica Remix)
Buy on Beatport.
Promo text taken from Deepersense Music facebook page.