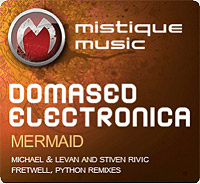 Mistiquemusic: Cat. MIST004
Released May 2009
Track list:
1. Mermaid
2. Mermaid (Michael & Levan & Stivin Rivic Remix)
3. Mermaid (Fretwell Remix)
4. Mermaid (Python Remix)
IN BRIEF: Atmospheric.
Okay, it's getting a bit ridiculous now. "Progressive", always one of the more slippery scenes in electronic music, has been stretched so damn far in the past year or two that it's snapped. We really need to throw the bloody term out altogether and come up with some new words to describe all this music, because the men formerly known as React 2 Rhythm and Leftfield must be thoroughly discombobulated by some of the stuff being associated with their invention. That's not going to happen though, because this is dance music we're talking about. Instead, the progressive bracket will be split yet further into more and more sub-sub-sub-genres, inspiring countless arguments amongst ill-informed web citizens.
So let's get cracking then. All that Guy J, Danny Howells, Shlomi Aber "Hey tech house, we're still cool" stuff is now progressive tech: now go away and think of some melodies. All the Anjunadeep poppy, "Hey Armin, you can open a set with us" people, you're now electro-prog and you need to stop talking to Armin Van Buuren and tell the police. Prog-psy… well, you're way ahead of us. Anyone making trance at less than135bpm without vocals can go get progressive trance out from the attic and dust it down. And as for all those spurious artists Beatport keeps labelling "progressive house" in spite of all reason… you're only in this category because the admin couldn't work out where you belong, so just keep it simple, shorten it to "house" and leave us alone.
Who's left? Well, a group of mostly European producers releasing on labels like Tilth and Proton, who are making good old fashioned atmospheric progressive house as it was back in 2004 just before all those Germanic minimal barbarians crashed the party. Strictly speaking, we should question just how "progressive" this music is when all it's done in five years is sound steadily shinier while ignoring all outside influences. But the hell with that: this is progressive house as most of know it, some of us love it and all of us can identify without having to stretch the term. It's a scene without any big name DJs or superclub associations, which means it doesn't get much publicity.
Domased Electronica's Mermaid, however, has been making waves since its release back in May, to the point where it's been one of the most popular progressive tracks of the summer. If you want a concise summary of what this underground progressive scene is all about, this single sums is it. Displaced from the traditional trance/house powerbases, most of it comes from Eastern Europe: Domased Electronica is Slovakian, Mistiquemusic is a Georgian label (as are its owner, Michael, Levan and Stivin Rivic) and remixer Python is Russian. In defiance to the trends of recent years, it is both unashamedly melodic and maximal in its production. And what's distinctive is the mood it evokes: neither the laser-soaked euphoria of old nor the K-hole trippiness of much modern house. Mermaid is ethereal, melancholic and delicately beautiful.
Perhaps this distinct and affecting mood is why Mermaid has been such a sleeper hit over the summer. This isn't a track that screams "dancefloor friendly": its melodic almost from the first beat, demanding harmonic mixing, while the bassline sits behind relatively sparse percussion and the breakdown is a good minute long. It's not a record any DJ could drop in any set.
When the Hartnoll brothers of Orbital looked back at their rave anthem Chime, Phil admitted he found it hard to dance to and Paul confessed it was slower than they had intended. Despite these flaws, he said, "The song won out". And when Mermaid's stirring choral pads and chopped vocal whispers wash into a breakdown and the spine-tingling piano motif flows over you… the song wins out. This isn't a perfect dance record, but it's a beautiful piece of music.
As you'd want from a single with a strong tune and slightly disappointing execution, the remixes are a strong bunch. Michael, Levan and Stivin Rivic (rarely has there been a production group so in need of an alias) turn in a proper progressive trance workout, in the pre-millennial Global Underground vein. The melody is confined to the sweeping breakdown while the rest of the track is a pumping, hypnotic journey, the plentiful layers the original provides augmented with beefed-up percussion and bottom end. English prog breaks darling Fretwell breaks up the Eastern European gang with a typically effective breaks rework, crafting shimmering arpeggio lines and background synth-washes perfect for pre-midnight crowd warming. Python turns in a Sasha-friendly neo-trancey mix which ditches most of the original and rebuilds the track around a sparkly arpeggio, soft kick and a hypnotic build.
While it's not perfect and it's not the future, Domased Electronica has written a track that might just stay with you long after the six month sell-by dates on most house records have expired. And he's got a whole scene of like-minded people out to do the same.
Written by SYSTEM-J for TranceCritic.com