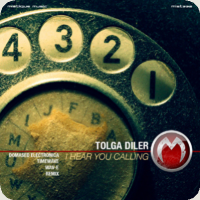 The 332nd release on Michael & Levan and Stiven Rivic's Mistique Music sees Tolga Diler returning to the label for his sixth appearance. Tolga is one of Turkey's most well known progressive house producers; he first came to our attention with his releases on Deepsessions, Underground City Music and Vise Versa Music in early 2011. More recently Tolga has had great productions on Mistique, OLD SQL and Green Snake. Tolga's newest single for Mistique is entitled 'I Hear You Calling' and it comes with remixes from: Domased Electronica, Timewave and Wav-E.
Tolga's original mix begins with a floor friendly groove that comes with a nice shuffle and lovely hypnotic accents. Effects heavy vocal trails soon enter the mix and paint a lovely angelic vibe over the powerful groove. The vocal progressively becomes more audible and a drop dead gorgeous melodic lead begins to take shape as well. Sections of perfectly clustered keys make up the melodic centre piece along with some anthemic chords which we could see providing some goose bump moments on the dance floor. The vocal elements here are really incredible; just silky smooth and oozing with quality combine that with the bang on the money melodic themes and you've got what is easily Tolga's finest work to date.
The first remix is supplied by Domased Electronica who just made a spectacular return to the scene last week after a more than two year absence. His 'Temple of Art' single was released on Mistique and will likely go down as one of the biggest releases on the label this year. The Slovakian producer has provided an excellent interpretation of 'I Hear You Calling' that complements the original version really well. Domased has crafted a much techier framework for the mix which comes with an electric bass line that provides a wickedly pulsating groove. The drums add a cool hypnotic element which play perfectly off the bass line to lock the groove down just that much more. The vocal elements have also been used to great effect as they create an amazing sense of space between the pumping groove and soaring atmospherics. This is very reminiscent of something Digweed would have played many years ago so it's certainly something you should have in your collection.
The next remix comes from Timewave who makes his first appearance on MIstique for 2013 and 29th overall. The Finnish producer closed out 2012 on a very strong run with releases on Armada and Joof; he continues to build on his tough, techy progressive trance sound and has become a favourite amongst DJs like John 00 Fleming and Airwave. For his 'I Hear You Calling' remix Timewave has stuck his guns and delivered those rock solid beats and crystalline melodies that we love. The crunchy rhythms and razor sharp synth lines rip through the air with such force that it's sure to cause chaos on the trancier dance floors out there and the soft melodic lines and smooth chord changes following the epic drop put the perfect cap on another Timewave masterpiece.
The final remix on the package comes from Wav-E who is making his 19th appearance on Mistique. The Macedonian producer who is now based in Austria closed the year out with productions on OLD SQL, Elliptical Sun and L*C*D* Recordings. Wav-E has long been known for his emotional piano melodies and his broad productions style which over the years has incorporated House, Chill Out, New Age, Trance, Techno, Breakbeat, D&B and even some Rock stuff. Wav-E's 'I Hear You Calling' interpretation comes with a big, spacious progressive bass line, lovely vocal gates, euphoric melodies and a wicked breakbeat section to close the record off which is actually quite unique. The production on Wav-E's music is also top notch, a really crunchy, processed sound that works quite well for this style. Great from mix from him and another very good package from Mistique.
Source: ReleasePromo