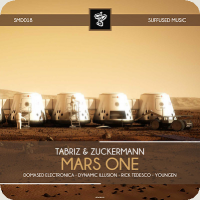 Tabriz & Zuckermann formation consists of two, hard working DJ's, both hailing from Oryol City, Russia. Sparked by a mutual desire to share the most current and innovative tracks, Tabriz and Zuckerman united at the end of 2007 under the project name Deepsens. This dynamic pair brings decades of experience to the table: as promoters, they have organized events ranging from private dance parties to huge electronic music festival, and they won't fail at producing also. Their new intergalactical journey called 'Mars One' is a trippy prog hymn, with dynamic upbeat, which fits perfectly under the flag of Suffused Music. You'll get remixes on the main theme by Domased Electronica, Dynamic Illusion, Rick Tedesco and Youngen.
Original Mix is 8 minute of pure floating, strings come and go, creating a special, endless atmosphere.
Domased Electronica carefully added more drawing to the original, a powerful baseline drifting under the complex string structure. It just sound so uplifting!
Dynamic Illusion's version is a bit faster than the original, but the main flow remains the same, with more dancefloor oriented approach. This one is a flashback to the progressive scene's first determinative florescence.
Rick Tedesco brought a prog break milieu, which means a breath of fresh air, mixing the recognizable elements from the original tune.
Youngen's taste on the title track comes through crystal clear, Mladen's intelligent sound based on the melodic parts, the used textures becoming a monster, traveller piece!
Source: Soundcloud