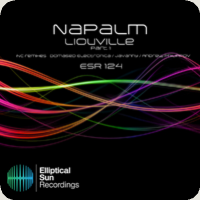 It's with great pleasure we present you the next ESR release, a really strong original with 3 massive remixes included also. This time we are apply to present you the rare talent behind the alias of Napalm.
With a calm relaxed progressive production, filled with smooth kicks, deep pads and swirrling bass chords, this laid back melody bound production is nothing less than pure progressive love that we are thrilled to see out on Elliptical Sun Recordings.
On remix duty you will face a great line-up, with the always creative Andrew Phillipov first up with one of his classic progrssive breaks interpretations. As alwyas he shows the importance of being creative with percussion, build massive melodic hooks and introduce a groovy bass line, we love it.
Next out is a great clubby production from one of the rising stars on the progressive scene, Russian producer Javanny. He gives the track a whole other dimension here, including more uplifting layering of sounds, to give the release one more direction. Big sidechained pads, smooth melodies and an overall lovely texture.
Last out is a clever take from Slovakian producer Domased Electronica. He brings a more mysterious production to us here, including a rich mixture in sound design. Be ready for deep twists and turns, including cool pads, groovy percussions and smooth melodic hooks.
Release date: June 17th, 2013