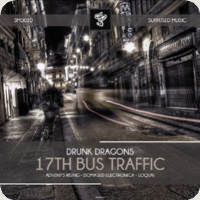 Drunk Dragons aka Kostas Rulinskas makes his shiny debut on Suffused Music, which is already the 10th release of the label. Kostas has a diverse taste in music, from chill out to progressive house he collects & builds the finest elements to his productions, shake it together as one in a stylish way. With his track called 17th Bus Traffic he step into the world of slow evolving, melodic progressive house. The variations on the main theme comes from Advent's Rising, Domased Electronica and LoQuai.
The original track operates with a dreamy string layer, spiced with a cool piano line, which add the melancholic character of the production.
Advent's Rising stripped back the original, dropped a massive foundation under his revision with simple, but effective drum programing and a memorable, plump groove, sharpen the energy blast in the breakdown with the melody tatters.
Domased Electronica created an euphoric suit to the title track using a complex soundscape, combined the 4/4 rhythm with breakbeats.
LoQuai preferred to build a breaks version from the recognizable elements of the original track. He put a sinister feel into it, with a fat sub, make it so impressive.
Source: VIPUltima, Suffused Music