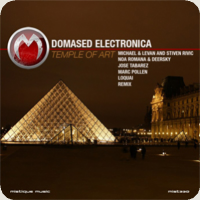 The 330th release on Mistique Music is out this week and it features a return for one of the labels original artists. Domased Electronica was one of Mistique's most loved producers in the labels early days. From April of 2009 to October of 2010 the Slovakian producer appeared on Mistique 19 times but then suddenly vanished from the scene. Fans have sorely missed his tough, melodic progressive sound and now after more than two years he is back with a new single entitled 'Temple Of Art' which comes with a massive selection of remixes from: Michael & Levan and Stiven Rivic, Noa Romana & Deersky, Loquai, Jose Tabarez and Marc Pollen.

Domased's original mix begins with an up tempo groove that surrounded with some lovely soft bass tones and wispy electronic accents. As the drum elements slowly get added in the anticipation grows until the first short drop reveals an electric bass line with a killer roll which pushes the energy higher. The rolling hypnotic rhythms bring the track to the main breakdown which goes through a variety of musical marvels, from the glassy coated bells and processed pianos to the break beat section that's laced with trailing vocal pads and rising atmospherics. When full groove returns the soaring melodies and celestial backdrop rise high for some real emotional escalation which should prove deadly on the more intelligent trance dance floors out there. A fabulous return for Domased Electronica and we can't wait to hear more from him.

Domased Electronica's return just wouldn't feel right with a remix from Mistique Music label bosses Michael & Levan and Stiven Rivic. The Mistique bosses are quite varied in their productions, we've seen them go deeper and more hypnotic like their work on Movement and Mesmeric or they can go big, rocking, festival style prog house and trance like we see quite a bit on their own imprint. Well their 'Temple Of Art' remix is certainly the latter; a big colossal progressive anthem that we could certainly see rocking a festival crowd as the sun is coming up. The galloping underbelly of beats and bass tones is as up tempo and energetic as you can get. The vocal wails and hook heavy arps keep things rocking through the first half as the track approaches the main drop. Here the indomitable trio have really crafted a breakdown for the ages; built around an incredible build and elevating tension that eventually peaks with the soaring atmospheres, heavenly vocal pads and monster groove all meeting for a sensational climax. More great stuff from Michael, Levan and Stiven Rivic.

The second remix comes from one of our favourite production duos Noa Romana & Deersky. The duo came on to the scene in 2011 with releases on Underground City Music, Deepsessions and Mistique. Noa and Deersky had an even bigger 2012 with their 'Metamorphosis' track launching Sound Avenue's new Crossfade Sounds imprint and further releases on Mistique and Electronic Tree. We love their spaced out progressive sound and it's worked wonders on Domased Electronica's 'Temple Of Art'. A well textured kick along with an underlying trail of spacey atmospheric tones lays down the foundation early on. The melodic elements from the original have been used beautifully by Noa and Deersky. They've really teased them into the production through the first half until the main drop where the celestial vocal wail and delicate melodies are allowed to shine just a bit more. The rough kick and undulating groove soon reappear though and you begin to drift further into the cosmos so to speak as the subtle but enchanted elements continue to work their magic though to a smooth finish.

Long standing Mistique artist Loquai is up next and this marks his 66th appearance on Michael & Levan and Stiven Rivic's imprint. Konstantin Alt aka Loquai has just come off a wickedly deep interpretation of Steve McGrath and Chris Sterio's 'Chasing Dopamine' which was released just a week ago on Mistique. Konstantin has also just appeared on legendary trance label Bonzai with his 'Flying Fortress' production in conjunction with Dutch producer Shimmer. For his 'Temple of Art' interpretation Loquai has crafted something that sits nicely between the big colossal remix from Michael, Levan and Stiven Rivic and the deep, spaciness of Noa Romana & Deersky's. Like all Loquai productions this one comes with an incredibly groovy bass line which powers the track and is sure to make it a real dance floor mover. The dancing melodic elements that flow through the piece are incredibly hypnotic and set against a backdrop of washed out atmospheres and subtle noise they sound just that much more fabulous. Superb stuff from Loquai.

The next remix comes from Jose Tabarez who is returning to Mistique for his 6th overall appearance on the label. Hungarian producer Zsolt Beregszaszi aka 'Jose Tabarez' last appeared on Mistique in October of 2012 with his excellent remix of MSZ's 'Toronto Despair'. Since then Jose has also appeared twice on the Insomniafm family of labels with a remix and also a single entitled 'Blandina'. Jose has gone deep for his 'Temple Of Art' remix and it proves to be an excellent complement to the other versions here. The production is set with a spacious bass line that really lets all the other elements breathe quite well. Jose's soft stabs, clattering drums and subtle sonic accents carry the groove quite well and if you're looking for another emotionally satisfying breakdown well Jose has crafted a perfect one here as well. A good one for the deeper progressive dance floors out there.

The final remix on the pack comes from Marc Pollen who is making his first appearance on Mistique here. Marc hails from the Netherlands and his unique brand of tough melodic techno has earned him a good fan base and aside from his many productions on Balkan Connection he has also appeared on Baroque and famed US house label Siesta. Marc's 'Temple of Art' remix really stands out here as well, the production on it is nice and warm with a really clean sound. The drums in particular are just bursting with life and the spacey acid bits are dead cool. The middle section of the record is also quite unique with a clever broken beat pattern adding some serious funk to the production while the acid and vocal trails create a wonderful environment surrounding the framework. Very cool stuff from Marc. Mistique have really outdone themselves on this package, great work turned in by all the remixers and what a spectacular return for Domased Electronica who hits us with one of his best records to date.
Source: ReleasePromo