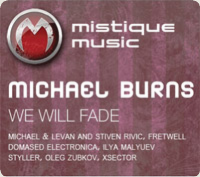 Michael Burns – We Will Fade (incl. Michael & Levan and Stiven Rivic, Domased Electronica, Ilya Malyuev, Styller, XSector, Fretwell, Oleg Zubkov) [MIST056]
Release Date: June 5th, 2010
Breaks / Progressive
Original Mix:
A Mistique release just wouldn't right without a breaks track included in the package. And here the original sets the pace for the rest of the E.P. Undoubtedly, the male vocals will divide opinions, but scratch below the surface and there's a haunting sounding bassline running throughout the track and some interesting swirly harmonic work.
Michael & Levan and Stiven Rivic Remix:
The bosses are on top form once again for their remix. Pretty much driven by a hypnotising bassline, this has lots of cool, deep sound effects along with some trademark, warm M&L and SR melodies!
Domased Electronica Remix:
In true Domased Electronica style, this is dark! A familiar sinister sounding bassline works well with the vocals to create a really simple remix that I think could be perfect for a sunset moment. Some nice breaks action in the middle too!
Ilya Malyuev Softtech Remix:
Another remix that's driven by an awesome bassline. Ilya's remix builds and builds and builds before a break filled with the vocals cools the track down. It then proceeds to build up again with a smashing breakdown that will have you hitting the rewind button again and again!
Styller Remix & Dub:
Styller's remix is as deep and dark as all the rest. With a lush piano laden break, it builds into a massive peak time prog trancer. Also some nice trickery on the vocals on this remix. It's pretty hard to describe what Styller has done with the vocals, I guess it's one of those where you have to listen to find out! Styller also offers a dub mix too for those who aren't being won over by the vocals
XSector Remix:
XSector are a production team from Tblisi, Georgia. Here they offer a more trancey feel to the track, without losing any of the deep, dark layers of the original.
Fretwell Remix:
Breakbeats through and through here from Fretwell. Creating an atmosphere to make you feel like you're flying above the stars, like the vocals state. Breathtaking harmonies and a nice swirly high pitched melody in the break.
Oleg Zubkov Remix:
Rounding off this E.P. is Oleg Zubkov and he offers up more breaks action. He uses lots effects on the beats to make the remix quite interesting and uses a really cool bassline to add chunkiness to the whole track.
Tracks on this release:
01. We Will Fade (Original mix)
02. We Will Fade (Michael & Levan and Stiven Rivic remix)
03. We Will Fade (Domased Electronica remix)
04. We Will Fade (Ilya Malyuev softtech mix)
05. We Will Fade (Styller remix)
06. We Will Fade (Styller dub remix)
07. We Will Fade (XSector remix)
08. We Will Fade (Fretwell remix)
09. We Will Fade (Oleg Zubkov remix)
Review by "Dan Southward"
Cover Design by "Shannon Riches / Approaching Black"
Source: mypromopool.com