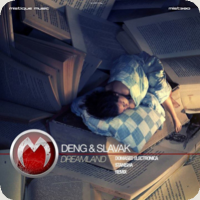 Michael & Levan and Stiven Rivic's Mistique Music returns for this week for a new single from Deng & Slavak. Denis Gusev & Slava Budyukin make up the Russian duo and this is their 3rd appearance on Mistique. Their last single Legend Of Ararat was one of our favourite Mistique releases this year and their new one entitled Dreamland promises to be just as good.
Deng & Slavak are two of the best at crafting those gorgeous ethnic sounding productions with a lot of soul. The wailing vocal samples and haunting musicality blends in perfectly with their intricate progressive groove. Dreamland carries all these great traits and it's one of those perfect tracks for the morning of a psychedelic festival. We like it even more than Legend Of Ararat and you probably will too. The duo have also provided a second Drive interpretation which is touch more melodic and perhaps more psychedelic. It is absolutely beautiful and in our opinion even better than the original, great work from Deng & Slavak.
The first remix is provided by Domased Electronica who has been one of this year brightest stars in progressive house. The Slovakian producer returned to the scene after a bit of break and has been delivering some of the strongest tracks of the year for Mistique, LuPS and Elliptical Sun. For his Dreamland interpretation Domased Electronica has crafted a percussive peak time rocker. He is marvellously reworked the vocal wails and incorporated the soulful instrumentation in such a way that it is still going to be perfect for the dance floor. Expect a huge moment following the break when the stripped down groove drops back in along with the full vocal complement. Another massive production from Domased Electronica.
The final remix on package comes from Stanisha who we have been raving about for years now. Easily one of the most creative producers in the underground who is still lately unrecognized for his talents. Stanisha's Wake You Up interpretation of Dreamland closes the release out on a strong note. The vocal has been processed into a morphing gate that is incredibly cool and the swirling spacey synths that lead into the main breakdown are sensational. The tough beats comeback in strong after the drop and a drive towards a short broken beat section where the melodic content of the record expands dramatically. The final third of the track is likely one Stanisha's most gorgeous constructions to date. The vocal wails become incredibly emotional layered over a bed of newly introduced electronics which sound out of this world. An all round amazing package from Mistique that is not to be missed.
Release Promo Hype Chart Top 25
Source: ReleaseOfficial