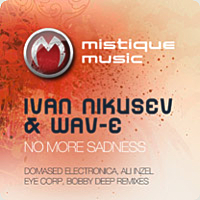 Ivan Nikusev & Wav-E from Macedonia has released a couple of tracks together on labels such as Outta Limits and Deepsessions, and now they're here on Mistique Music with their track called "No More Sadness".
This package includes 4 remixes from Domased Electronica, Eyecorp, Bobby Deep, and Ali Inzel.
An enjoyable, deep atmosphere is quickly put in effect which is dominated by the many pad layers and delayed synth riffs. The percussion is kept on a minimum yet it creates a memorable pattern that plays well with the rest of the elements in this track.
Domased Electronica from Slovakia delivers the first remix. Its deep, rolling bassline along with the various riffs here and there create a very progressive and enjoyable mood, and because of the progression of the beat this track is extremely energetic as well.
The remix from the duo Eyecorp from Mexico includes a bassline with rough edges and a rather firm beat, and a sidechained pad is used throughout the entity of the track. Cool arpeggiator melodies also help to create a very interesting atmosphere.
Next remix comes from Bobby Deep from Greece. Starts out with a deep intro followed by small panned guitar riffs. After a few minutes the track is dominated by a very fine deep atmosphere that includes a great deal of various synths, and the break is a blissful journey with many pad layers.
Turkish Ali Inzel delivers the last remix in this package. The bassline and beat create a quite heavy rhythm which is maintained throughout the whole track. A break beat appears in the break as well as fine pad layers that continue after the break.
Tracks on this release:
01. No More Sadness (Original mix)
02. No More Sadness (Domased Electronica remix)
03. No More Sadness (Eyecorp remix)
04. No More Sadness (Bobby Deep remix)
05. No More Sadness (Ali Inzel remix)
Review by "Gorm Sorensen / Airillusions"
Cover Design by "Shannon Riches / Approaching Black"
Details on Mistiquemusic website.